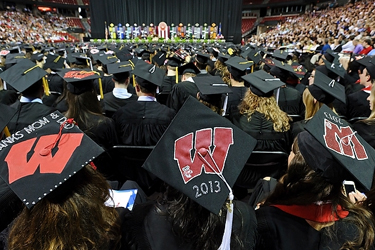 Having a student who is the first member of a family to attend college brings a great sense of pride to a family. UW–Madison believes that academic and career success is possible for students of all backgrounds. We support first-generation college students and their families throughout the college experience through the resources below.
UW–Madison's Working Class Student Union (WCSU) supports and advocates for working class and first-generation college students and educates the entire UW–Madison community on the benefits of recognizing and celebrating class diversity. Their goal is to offer a safe community where people can share their unique experiences, knowledge, and goals.
CeO's mission is to provide a supportive learning community which fosters an equal opportunity for success in higher education. It is a campus-wide program open to students from various disciplines, and works with more than 600 undergraduate students. CeO supports first-generation college students, low-income families, and students with disabilities through academic coaching, mentoring, academic and career advising, as well as a structured first- and second-year experience for students.
Featured in the Badger Parent newsletter, this article lists and defines words and phrases commonly used by UW–Madison students. This list, unique to the UW–Madison community, helps everyone talk like a Badger.
What does it take to get going and keep going, once in college? If you are the first in the family, it can take grit and support. In these six audio slideshows, first-generation college students talk about the money, cultural, family, and academic hurdles they face on the path to a four-year degree—and how colleges can help.
The McNair Program is dedicated to preparing low-income, first-generation, and underrepresented undergraduate students for graduate education leading to a Ph.D. McNair Scholars are provided with research opportunities, attend and present at national research conferences, receive one-on-one academic counseling, participate in professional development workshops, and attend informational seminars on all aspects of graduate school, including the application process. Applications are accepted throughout the year.