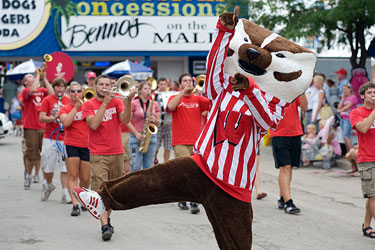 Whether you have stayed actively connected to UW–Madison or you're rediscovering your Badger pride as a Badger family, there are many ways to engage with UW–Madison.
The Wisconsin Alumni Association (WAA) allows alumni from all over Wisconsin, the United States and the world to connect. Founded in 1861 to promote the welfare of the University of Wisconsin and serve the interests of its alumni, the association carries out this mission today through marketing, communications, services, and programs that link alumni back to the university, the university with alumni, and alumni with each other.
Becoming a member of the Wisconsin Alumni Association allows you to reunite with your Badger roots. WAA members strengthen the university and Badger pride around the world. Visit their website to learn more about the benefits of being a member and membership opportunities.
There are many ways to stay connected to the university and fellow Badgers. Find out more about the over 100 alumni chapters and affiliates across the globe that host events such as Founders' Day celebrations and Send-Offs. Learn about outreach opportunities, volunteer work, and travel opportunities. Take a class through educational programs that connect alumni and friends with the resources of UW on campus, on location and online. Finally, reminisce with alumni by reading past Badgers' memories from their very first Wisconsin game!