Let your student know that you are thinking of him or her. In addition to notes, photos and homemade care packages, these gifts are perfect to send for birthdays, final exams, Valentine's Day, winter holidays, to wish good luck, and "just because." Any of these reminders are sure to bring a smile.
Gift Baskets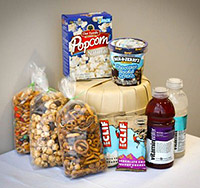 Brighten your student's day with a gift basket! The Parent and Family Program has partnered with Fresh Madison Market to offer you a variety of gift baskets as a wonderful way to wish your student good luck on an exam, congratulate your student on a job well done, say happy birthday, or simply send warm wishes. Fresh Madison Market does all the work for you; just select a gift basket of your choosing and it can be delivered to your student's door.
E-Postcard
Create a one-of-a-kind electronic postcard to send to your student. Choose from a selection of UW–Madison campus photos and add your own customized message. Fun to send and fun to receive!
University Housing
If your students live in the residence halls, consider sending them a Care Package from University Housing. Choices include:
Birthday cakes
Care packages
Gift certificates for pizza, snacks, coffee, ice cream, milk, and cookies and up-all-night study packages are available.
Use the online order forms, or call 1-800-438-5680 at least one week in advance to place your order.
Division of Student Life
The UW-Madison Division of Student Life and SendACarePackage.com are very excited to announce our new partnership! SendAcarePackage.com provides fun themed care packages that are filled with student-approved snacks, meals, and useful items they can actually use. Each order allows you to add a personalized message from home to let them know you're thinking of them. This program allows you to pre-order care packages up to a year in advance so you don't miss those special dates such as holidays, exams, birthdays, or just a special surprise to help them through the school year. A portion of the sales from each care package is returned to the Division of Student Life to help fund important student events and programs. SendACarePackage.com also donates a portion of their sales to AFSP – The American Foundation for Suicide Prevention, which helps to provide programs and resources for survivors and people at risk.

Wisconsin Union
From ice cream to concerts, the Wisconsin Union has something for everyone. A Wisconsin Union Gift Card with a personalized message may be purchased for any dollar amount between $10 and $500. Order online, call 608-263-1964, or visit the Memorial Union Essentials Store or the Union South Corner Store.
University Health Services (UHS) massages
Stress can affect your student mentally, physically, and academically. Gift certificates for a massage from a professional massage therapist at University Health Services (UHS) can be the perfect gift of relaxation. Call 608-265-5600.
Arts and Theater
Help your student enjoy on-campus arts events with and Campus Arts card. Students save over 25% off of regular UW student prices.
Babcock
From gift certificates to cheese, clothing, and candy, Babcock Hall offers a variety of gift ideas. Call 608-262-3045.
UW merchandise and gifts
While UW–Madison does not endorse any particular merchandiser, here are links for some campus, local, and online retailers of UW merchandise and gifts.
Bucky's Locker Room: UW–Madison's official sportswear website.
Wisconsin Alumni Association: includes Badger clothing, furniture, golf equipment, and other UW–Madison gifts.
UW Marching Band: provides UW Band clothing, audio/visual materials, and other accessories.
Downtown Madison gift certificates: purchased and accepted at more than 100 shops, restaurants, museums, and cafés on State Street and the Capitol Square.
University Bookstore: order gift certificates, clothing, hats, totes, jewelry, and more. Call 1-800-993-BOOK.