What makes the Wisconsin Experience unique is not only the opportunities for students to learn and grow in the classroom, but the breadth of options available outside of the classroom that help prepare students for success in today's global economy. Below are some important resources students may use to access out-of-class-learning experiences. We encourage parents and families to talk with their students about taking advantage of these important opportunities.
Division of Student Life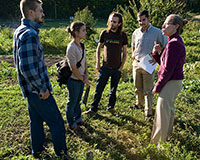 The Division of Student Life (DSL) comprises ten departments that cultivate, advance, and interconnect the academic, professional, personal, and social development of students and champion a respectful, globally engaged, and diverse university community. Offices include:
UW Student Job Center
The UW Student Job Center maintains extensive listings of on- and off-campus part-time and summer employment opportunities. Students who have been offered funds from the Federal Work-Study Program as part of their financial aid package may find available positions through this service. Typically, new undergraduate students work 10 to 12 hours a week, depending on the ability to balance academic requirements and a work schedule. Research shows that working a manageable number of hours increases a student's academic performance by establishing structure and organization into a student's schedule.
Wisconsin Involvement Network
The Wisconsin Involvement Network (WIN), a new campus-wide software program, allows students to identify, organize, and coordinate their out-of-class involvement experiences. Students can create a profile, search for student organizations, learn about campus events, find opportunities that match their interests, and more. Encourage your student to visit the Wisconsin Involvement Network website.
Student Leadership Program
Through programs, services, and tailored workshops, the Student Leadership Program (SLP) offers leadership training for all UW–Madison students. These programs are designed to develop effective leadership skills in students and student groups through comprehensive leadership education.
Morgridge Center
The Morgridge Center for Public Service makes it easy for students to get involved in the community. Public service allows them to meet new people, provide needed services to nonprofit organizations, and receive rewarding and practical experience.
The Wisconsin Idea is the principle that education should influence and improve people's lives beyond the university classroom. Through the Wisconsin Idea, the university continues to make a difference in the lives of Wisconsin citizens.
Undergraduate Research Scholars Program
Undergraduate Research Scholars earn course credit for participating in a year-long course of study that includes a seminar on issues in research and hands-on experience with a mentor's research project in any area of scholarship and the arts represented at UW–Madison.
Internships, Research, and Volunteer Opportunities
For additional opportunities for engaging in out of class learning, see Involvement Opportunities.