Students have many options for their living arrangements, both on and off campus. It is important that students and families understand these options when making informed housing decisions. The information below highlights the benefits of living in University Housing and the factors to consider when selecting an off-campus apartment or house.
University Housing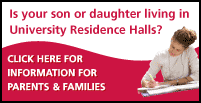 University Housing offers residence halls for undergraduate students, as well as university-owned apartments for single and married students and their families. University Residence Halls offer students the opportunity to build personal connections to the university and community, and help new students successfully make the transition from high school to college and beyond. To enhance learning, a wide variety of programming takes place within the residence halls, including academic programming and diversity programming. Phone: 608-262–2522
Specific information about each residence hall »
Rates and billing

Wiscard turns students' UW Photo ID into a multipurpose debit card that can be used to purchase food, school supplies, textbooks, and more.
University Housing has its own business office and operates on a billing cycle separate from tuition and other fees.
Residential Learning Communities at UW–Madison
Choosing to live in a residential learning community is a great opportunity for your student. Learning communities integrate living and learning experiences together with faculty, staff and students around an explicit focus within University Residence Halls. Students in these communities benefit from unique seminars, class sections, and activities that bring them together and set them up for success.
Campus Area Housing
More than 30,000 UW–Madison students choose to live off campus. Campus and Visitor Relations Programs' Campus Area Housing Listing Service is the official off-campus housing office for UW–Madison and provides online listings of available apartments, houses, roommate situations, efficiencies, rooms, cooperatives, and privately owned residence halls near campus and throughout the Madison area. On the Campus Area Housing Frequently Asked Questions Web page you can find information regarding the best time to search for housing, average rent prices, and parking. Phone: 608-263–2452; e-mail: campusareahousing@uwmad.wisc.edu.
Privately owned residence halls
Privately owned residence halls, owned and operated by the private sector, provide a group living situation conducive to meeting other students and to helping ease students into college life. They are located near campus and offer residence-hall and apartment-style arrangements, meal plans, and other amenities.
Application procedures and lease agreements vary, and are solely the responsibility of the student renter, not the university, and are legally binding.
Students who sign any rental lease and later decide not to attend UW–Madison (or change their mind about their living arrangements) may still be held legally responsible for their lease. In addition, UW–Madison cautions against signing two housing contracts/leases; both are binding and students as well as co-signors may be held responsible.
Consult your contract or lease for specific details about your liability if your plans change or if you are not admitted.
For information about current Private Residence Hall vacancies and other campus-community living options, visit the Campus Area Housing Listing Service website.
Housing options for next year
As early as October and November, your student may begin to feel pressure from friends about where to live next fall. Often, this happens because—beginning in November—many campus-area property owners begin advertising vacancies for the following fall. Many students mistakenly think that if they don't make a decision in November, there will be "nothing left." That is simply not true. Encourage your student to take his or her time in making this important decision. Below are some factors to keep in mind when talking with your student.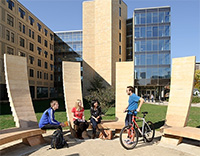 Consider staying on campus. There are many benefits to living in the University Residence Halls. Returning students have the privilege of choosing exactly which hall, floor, and room they will live in. University Residence Halls offer dining facilities featuring fresh, nutritious meals not readily found off-campus, and resume-boosting employment opportunities right in their building. Also included in the room rate are high-speed (100 mbps) internet connections with unlimited bandwidth, cable TV with premium channels including the Big 10 Network HD, and all utilities; those services are typically billed separately in off-campus facilities at additional costs that students do not always factor into their projected budget and that can fluctuate unpredictably during the year. Information about selecting rooms for the next academic year is advertised in late fall, along with Open Houses that offer students a chance to visit other buildings and learn about different residence hall communities, explore single room options, and meet the staff. Even though the process kicks off before winter break, Housing contracts are not due until the spring semester so there is plenty of time to make a decision.
Students who choose to live off campus should take their time before signing a lease. Although some housing units are advertised as early as November, the greatest selection and choice exists December through February. Students who sign leases early are more likely to overpay and find themselves in unfavorable roommate situations. As a reminder, a lease is a binding legal contract. The Campus Area Housing (CAH) Listing Service, a service provided by Campus and Visitor Relations, features the most comprehensive online listing of campus-area rentals. These include privately owned apartments and houses, roommate vacancies and sublets, private residence halls, co-ops, and rooms in private homes or rooming houses. The CAH Web site includes frequently-asked questions, average rent prices, and links to other important housing-related resources.