Sibs Day invites UW–Madison students to bring their brothers, sisters, nieces, nephews, cousins, or family friends ages 8–18 to experience college life, campus, and the city of Madison. Students and their siblings enjoy all that UW–Madison has to offer, including a performance from the UW Marching Band, a photo shoot with Bucky Badger, experiments in campus labs, a bus tour of the city of Madison, and so much more.
Questions? Contact us at 1-877-262-3977 or parent@uwmad.wisc.edu.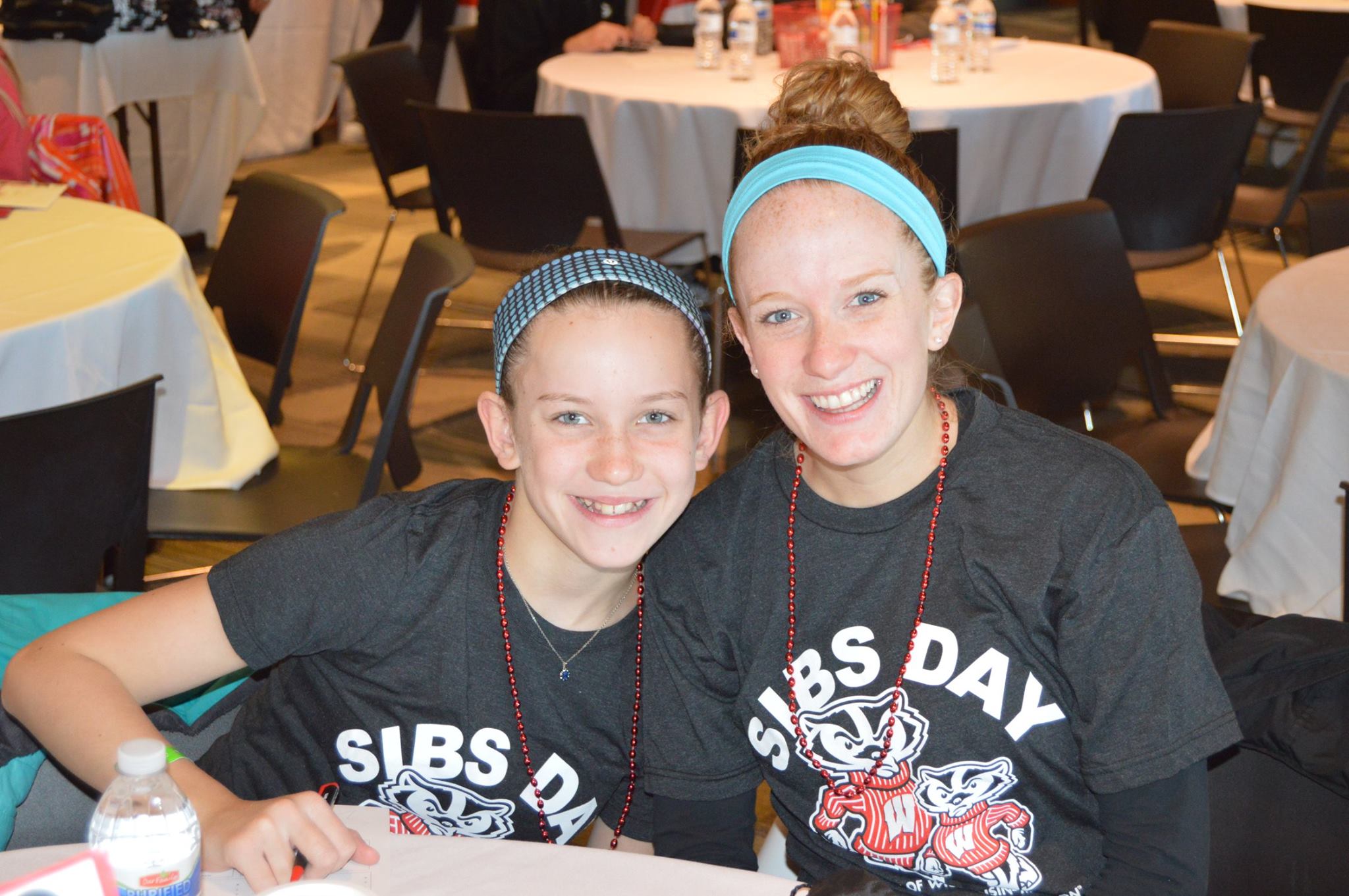 The next Sibs Day event will be April 14, 2018.
Check back here for information on registration and a schedule of activities.
2017 Schedule of Events
9:30 – 10:15 a.m.  |  Check-in
The day begins at Dejope Residence Hall in the Mendota Room, located at 640 Elm Drive in Madison. Sibs and students check in, pick up their T-shirts and giveaways, and get ready for a spirited day by greeting our furry friends from Dogs on Call.
Don't forget your waiver and health form! A parent/guardian must sign the sibling waivers.
10:15 – 10:30 a.m.  |  On Wisconsin Welcome
Welcome from the Parent and Family Program and Aaron Bird Bear.
10:30 – 11:30 a.m.  |  Badger Brunch
Students and their siblings share a dining hall experience by picking out brunch and lunch items at the Four Lakes Market. Student entertainment including the UW Band and music and dance groups will entertain during brunch.
11:30 a.m. – 12:30 p.m.  |  Campus Scavenger Hunt
Students and their siblings compete for prizes in a scavenger hunt around campus.
12:30 – 1:30 p.m.  |  Photo shoot with Bucky
We'll take your photo with everyone's favorite Badger! Snacks will also be provided at this time.
1:45 – 2:45 p.m.  |  Badger Experience Session #1
Option 1: Yesplus Yoga and Mindfulness Workshop
Option 2: First Nations Cultural Landscape Tour
Option 3: Hot Wheels of Tut and Nero – The Science Behind Ancient Chariot Races
3 – 4 p.m.  |  Badger Experience Learning Session #2
Option 1: Gatorade DNA Extraction Lab
Option 2: Badgerloop – Alternative Transportation and Virtual Reality
Option 3: Storytelling and Gaming – how game developers use augmented reality and interactive storytelling to create some of society's favorite games
4:15 – 5 p.m.  |  Madison Bus Tours
Sit back, relax, and take in the beauty of campus and the city of Madison. Tours are led by UW tour guides.
5:15 – 7 p.m.  |  Pizza Paint Night
Enjoy dinner and a terrace chair paint night with Wheelhouse Studios and DJs from WSUM, the UW's student radio station.