Events throughout the year

Throughout the year, many campus and community events welcome Badger families. Each event offers a unique opportunity to become engaged with the UW–Madison and with your student's college experience. We invite you to connect with campus through one of more of these events.
Summer
Student Orientation, Advising, and Registration (SOAR)
Attending Student Orientation, Advising, and Registration (SOAR) is the first step for new students and parents. SOAR takes place the summer before the student's first year at the UW–Madison.
SOAR will give you and your student a closer look at what life is like for a UW–Madison student. As you visit campus and learn more about the community, you'll feel like you're already a part of a great campus and a city that is routinely considered one of the most livable in the country.
There is a separate concurrent SOAR program for parents/guests. We encourage up to two parents or adult guests to attend the SOAR Parent/Guest Program. You will be better able to support your student through his or her college transition by learning about the university and resources that are available to you and your student.
Student Send-Off Celebrations
Each summer alumni chapters across the country hold student send-offs, bringing together incoming students, their parents, and local alumni.
For incoming students, it's a day to make new friends, get the inside scoop on beloved Badger traditions, and meet their "fan club" of alumni who reside in their home town.
For parents, it's a day to learn about UW–Madison from local alumni, as well as discuss issues and share concerns with other parents.
For local alumni who work to raise funds for their local scholarship fund, it's a day to meet and congratulate the students they're helping to support.
For more information, contact the alumni chapter nearest you.
Fall
Family Weekend – Friday, November 3rd, 2017 – Sunday, November 5th, 2017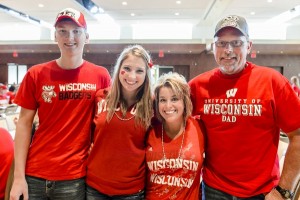 From grandparents to siblings, Family Weekend gives the whole family a chance to see UW–Madison through the eyes of their Badger. The weekend features a wide variety of programming options, including behind-the-scenes tours, photo opportunities with Bucky, a special welcome reception with the Chancellor, discounted tickets to a women's hockey game, a farewell brunch, and much more. Registration will open July 19, 2017 at 9 a.m. CDT.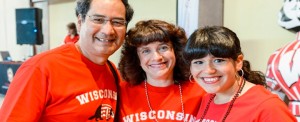 Experience a football game with your student each fall! Wisconsin Athletics provides parents and families an opportunity to purchase single game tickets before they go on sale to the general public. Tickets are sold out for this fall.
Winter
Winter Family Event- January 2018
Join the Parent and Family Program for an exclusive day on campus each year in January. In collaboration with Wisconsin Athletics, the Parent and Family Program offers discounted hockey tickets.
Prior to Saturday's game, families will also have access to a special event at Camp Randall Stadium. The event includes snacks, warm refreshments, and a chance to explore places normally unseen on game days, such as the trophy room, locker room, and skyboxes. Families will receive further details by email after purchasing their hockey tickets.
Spring
UW-Madison students are encouraged to invit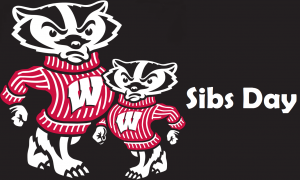 e their brothers, sisters, nieces, nephews, cousins, or family friends to experience a day in the life of a Badger. Sibs Day involves a packed schedule of events and activities for students and their siblings to do as they spend quality time and share Badger school spirit with one another.
Badger Family Spring Visit is an event where family, and guests are encouraged to visit their student anytime during the month of April. Simply choose a weekend in April that works for you and take advantage of free or low-cost, family-friendly events and attractions while enjoying the beauty of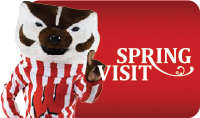 springtime in Madison.
Just by registering here, you'll receive a complimentary welcome bag and customized, signature app for you to save your favorite events and create your own schedule.
Involvement
Beyond staying connected to information pertaining to your student's experience and development, there are many ways for parents and families to become more involved at UW–Madison. We have highlighted some important resources and services that showcase why UW–Madison is a world-renowned living and learning community and demonstrate why it is a popular education and visitor destination.
Wisconsin Alumni Association
Wisconsin Alumni Association (WAA) links alumni, parents, and friends with UW–Madison. WAA offers scholarship information, online career services, lifelong learning opportunities, and worldwide travel.
University of Wisconsin Foundation
The University of Wisconsin Foundation is the official fundraising and gift-receiving organization to support the University of Wisconsin–Madison. To find out more about giving to the UW Foundation, visit their website, call 608-263-4545, or e-mail uwf@supportuw.org.
Wisconsin Union
The Wisconsin Union is the social, cultural, and recreational center of campus. The Memorial Union, on the shore of Lake Mendota, and Union South, near Camp Randall, serve as gathering spots for students, faculty, staff, community members, and visitors. Find out more information on becoming a member and opportunities available to parents and families—including theater events, films, music, mini-courses, and outdoor recreation programs. Phone: 608-265-3000.
Continuing Education Opportunities
The University of Wisconsin Division of Continuing Studies connects alumni, parents, and friends to the UW through a wide variety of enrichment opportunities, special events, and courses.