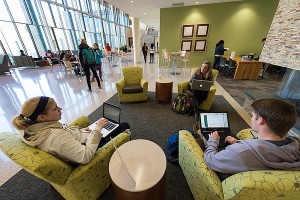 These days, job searching and social media go hand in hand. Students often use social media as a direct line of communication with employers, allowing them to make important connections promptly and discover opportunities using these platforms. But as social media becomes a new form of a resume, it is important for students to use these tools professionally. Here's a look at how major social-media websites can help your student's job search.
LinkedIn allows your student to highlight accomplishments, work history, skill sets, and more. In turn, potential employers can find individuals with the right credentials when they are filling open positions. Using LinkedIn, a student can:
Include recommendations from others in his or her profile, adding credibility to a resume and demonstrating professionalism within a particular industry.
Search for job opportunities. In addition to searching the job-postings section, a student can join groups and participate in discussions. Many employers will post opportunities within the discussion sections of various groups.
Prepare for interviews. To help an interview go smoothly, a student can use LinkedIn to research companies and the people he or she will be meeting.
Make important connections with employers. Students can direct-message someone who has a job that seems interesting and learn more about specific opportunities.
Find Badger alumni in a prospective job field through UW–Madison's official LinkedIn page.
Twitter can be used for building an online brand, keeping current on news, joining conversations, making connections, and learning about job opportunities. To ensure search-engine results and increase transparency, a Twitter name should be the user's real name. Using Twitter, a student can:
Follow people, recruiters, and companies of interest to learn about news and opportunities.
Build an online presence by using hashtags to contribute to conversations, mention other Twitter users, and retweet information.
Reach out to people to network and ask for advice.
Thank a recruiter after an interview.
Facebook can be an effective networking tool. It may be helpful to have a conversation with your student about his or her Facebook usage and privacy settings, as more employers are using Facebook as a way to screen potential hires. Using Facebook, a student can:
Follow companies of interest to learn about announcements, recent news, and job opportunities. Companies frequently post articles or information relevant to their mission and values.
Use the status update to inform friends that he or she is looking for a job by posting an update on an interview or an event. A student who has a blog can share a new post.
Post a note explaining what he or she is looking for in a future career. A note tends to stay on people's screens longer than a status update, and provides the opportunity for including a longer message.
As your students start their job search, it's a great time to remind them about privacy. Make sure they know what others can see on their profiles and encourage them to remain presentable and professional.