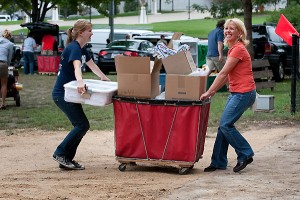 To help make the experience of move-out week (May 11–17) as pleasant as possible and to avoid delays, encourage your student to begin planning and packing early. Your student can send items not needed during finals week — such as futons, TVs, chairs, shelves, winter coats, bikes, or mopeds — home before Saturday, May 9, saving on trips and making loads lighter for their official move-out day. If this is not possible, then moving prior to commencement will help you avoid the frustrations of limited parking and traffic congestion. If you must move-out during these graduation ceremonies, please plan for extra time:
Doctoral, MFA, and Professional Degrees
Friday, May 15, 5:30 p.m.
Kohl Center
Bachelor's, Master's, and Law Degrees
Saturday, May 16, noon
Camp Randall Stadium
If your student will be returning to the University Residence Halls in the fall, two easy options are available for summer storage:
Your student can contact their residence hall front desk to make arrangements for summer storage for small boxes, carpet, and some small furniture. Keep in mind that space is limited and available on a first-come, first-served basis. All items must be clearly tagged with your student's returning residence hall name and room number.
Lazybones, Inc. specializes in summer storage and shipping with free packing boxes, pick-up from your room, and delivery. Lazybones can store your student's possessions for the summer and deliver them to his or her new room in the fall, even before your student arrives.
For students who are not returning to the University Residence Halls:
Lazybones picks up students' boxes, stores them for the summer, and delivers them to their addresses next year or ships them to a specific destination.
To use the Lazybones service, sign up online, e-mail wecare@mylazybones.com, or call 877-215-2105.
Remember that students should vacate their rooms within 24 hours of their last final, and may not stay later than 9 p.m. on Saturday, May 16, unless a hall's Residence Life Coordinator has given permission. Students staying until Sunday, May 17, must move out by noon.
Each year, University Housing provides students with a convenient way to repurpose or recycle extra belongings. In 2014, students and their families diverted more than 82,000 pounds of waste from the landfill by donating or recycling items they no longer needed. Please help us by bringing such items to a recycling location near your student's hall.
Students should check for specific information (such as instructions for parking, directions to recycling locations) that will be posted in the halls close to move-out week. For more about University Housing move-out, visit the University Housing website.