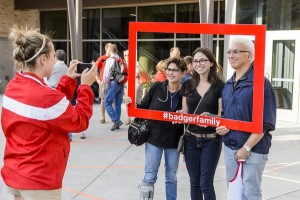 The Parent Program and UW–Madison invites your family to join us this fall. We are offering two fall events for parents and families to choose from.
Event: Parents' Day at the UW Football Game
Date: September 26, 2015
UW Badgers vs. Hawaii Rainbow Warriors

If attending a Badger football game is on your Badger bucket list, this experience is for your family. This event gives you access to purchase football tickets (first-come, first-served). We will arrange hotel blocks and will showcase a list of campus and community events and destinations. Please note that there will be no registration fee or additional programming for parents during the weekend, as the football game is the featured experience. An email will be sent soon with details on how to purchase tickets and additional information.
Event: Fall Family Weekend
Date: October 9–11, 2015
Connect with campus. Experience tradition. Make memories.

From grandparents to siblings, Family Weekend gives the whole family a chance to see UW–Madison through the eyes of your student. The weekend will feature a wide variety of programming options, including open houses, behind-the-scenes tours, a family photo shoot with Bucky, a football game watch party (away game: Badgers vs. Nebraska), talks with professors, a showcase of campus programs, learning sessions, hands-on science activities, theater and music performances, cooking classes, and more. Registration will open in June 2015.
The latest information about UW–Madison Fall Parent and Family Events, including frequently asked questions, hotel accommodations and important links, will be posted soon at parent.wisc.edu.
We offer opportunities to visit all year, including Badger Family Spring Visit, which is occurring now, as well as a winter event.
Please visit our Parent Events and Activities page for information about all of our event opportunities.