This article is available in Spanish (español) below » 
The Parent Program strives to continuously improve the quality of communication and services we provide, so we can reach as many parents as possible, in the best ways possible. Our foreign language services are incredibly important to us and are no exception to this continuous improvement.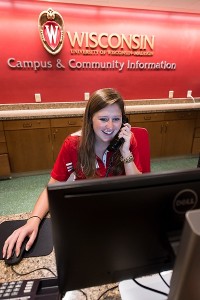 We were very excited to recently launch our Spanish Parent Program web page, which includes information about academics, health and safety, transportation, school finances, frequently asked questions, and much more. We also have a Spanish e-mail service in which parents can send in questions regarding their students, Parent Program events, and more.  These questions are then answered in Spanish with helpful resources, information, and Spanish referral contacts if another UW­–Madison department needs to be contacted by the student or parent.
"Access to information about the campus and university community is very important for Spanish-speaking families. It is a very effective way for parents and families to stay connected to the community," says Carlos Orozco, bilingual specialist for the Parent Program.
We are excited to announce the further expansion of these services with the launch of our new Spanish phone line! Parents will be able to call the Parent Program phone line at 608-262-3977, and select a Spanish voicemail option after hearing both an English and Spanish Parent Program welcome message. Leave a message, and we will return your call within three business days.
Each of these services allows us to reach an even greater number of parents and provide them with valuable information to support their students, which is ultimately our goal – creating open lines of communication with parents so that they can best mentor and support their students through the college process.
If you have any questions about the Spanish phone service, please contact the Parent Program.
Conéctese con nosotros en español
El Programa para los Padres se esfuerza para mejorar continuamente la cualidad de la comunicación y los servicios que proporcionamos, entonces para alcanzar a tantos padres como sea posible, en las maneras más efectivas y mejores. Nuestros servicios de lenguas extranjeras son muy importantes para nosotros, y no hay ninguna excepción al mejoramiento continuo.
Estuvimos recientemente muy emocionados para lanzar nuestros sitio Web del Programa para los Padres en español, que incluye información sobre la academia, salud y bienestar, transporte, información financiera para la escuela, preguntas frecuentes y más. También tenemos un servicio de correo electrónico en español dónde los padres pueden enviar sus preguntas sobre su estudiante, los eventos del Programa para los Padres y más. Estas preguntas, entonces, se responden en español con recursos beneficiosos, información y contactos de referencia en español si se tiene que contactar a otro departamento universitario por el estudiante o el padre.
"El acceso a la información del campus y la comunidad universitaria es muy importante para las familias y padres hispanohablantes. Esto es una manera muy efectiva para mantener a los padres y familias conectadas a la comunidad," menciona Carlos Orozco, el especialista bilingüe del Programa para los Padres.
¡Estamos emocionados para anunciar la expansión de nuestros servicios con el lanzamiento de nuestra nueva línea telefónica en español! Los padres podrán llamar al Programa para los Padres al 608-262-3977, y seleccionar el buzón de voz en español después de escuchar el anuncio de bienvenida. Para acceder el buzón de voz en español, oprima 2. Al acceder el buzón, deje su mensaje y le regresaremos su llamada en tres días laborables.
Cada de nuestros servicios nos permite alcanzar un número más grande de padres y proporcionarles información valorable para apoyar a sus estudiantes, que es nuestra meta – establecer buenas formas de comunicación con los padres para que puedan ser un buen mentor y apoyar a sus estudiantes a través de todo el proceso universitario.
Si tiene alguna pregunta sobre el servicio telefónico en español, por favor póngase en contacto con el Programa para los Padres.