Resources
The University of Wisconsin–Madison's Parent Program serves as a key resource for parents and family members as they support their student through their college career. In addition to the services offered by our program we have highlighted a few other resources that are of interest to parents.
Calendar

A 2014–15 Calendar and Handbook for Parents and Families. Request a free copy of the calendar or download the PDF version. (7 MB)
The 2015-16 Calendar and Handbook will be mailed mid-to late July to families that are a member of the Parent Program with a student in their second to fourth year in school.
Newsletter

Badger Parent Newsletter, published five times per year and e-mailed to all members of the Parent Program. Join the Parent Program to begin receiving newsletters or view past issues.
Web chats

The Parent Program, in collaboration with other campus offices, sponsors several web chats throughout the year. Topics include how to make housing decisions, learning about financial aid resources, and more. You can also view the archives for past web chats.
Video

YouTube Channel — features things like Parent's weekend sessions and videos from other Badger families about their transition as a parent with a new student.
Organization

College Parents of America is a national organization dedicated to providing resources for both future and current college parents. Its mission is to empower parents to best support their children throughout their college experience. Resources provided on the website are not directly endorsed by the Parent Program, but may provide useful ideas and information.
Campus publications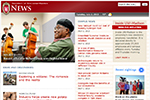 It's easy to stay informed about campus news and events. The UW–Madison homepage is a great resource for featured news stories, listings of important events, and links to other campus sites that will take you inside everything that's happening at the university.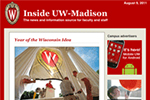 Inside UW–Madison is the university's electronic employee newsletter. It is delivered directly to approximately 30,000 employees, graduate assistants, retirees and campus affiliates every Tuesday and Thursday morning. Produced by University Communications.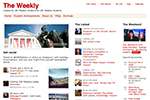 A weekly email newsletter and website for UW–Madison students. Featuring helpful, fun and inspiring posts from social media and the campus web. Produced by University Communications.
The Wisconsin Alumni Association publishes On Wisconsin, in partnership with University Communications and the UW Foundation. On Wisconsin reports on key research projects and events at UW Madison as well as alumni news. It's a great way to keep connected with the campus.

Books
The Parent Program does not directly endorse the books listed, however we have read and reviewed them and found that they contain valuable tips for parents. If you have favorite books that helped you prepare to be the parent of a college student, please e-mail us so we can share additional titles with other parents.
Don't Tell Me What to Do, Just Send Money by Helen E. Johnson and Christine Schelhas-Miller
Letting Go: A Parents' Guide to Today's College Experience by Karen Levin Coburn and Madge Lawrence Treeger
The Parent's Crash Course in Career Planning by Marcia B. Harris and Sharon L. Jones
You're On Your Own (but I'm here if you need me): Mentoring Your Child During the College Years by Marjorie Savage
Almost Grown: Launching Your Child from High School to College by Patricia Pasick
A New Beginning: A Survival Guide for Parents of College Freshmen by Kaye B. McGary
Millenials Rising: The Next Great Generation by Neil Howe and William Strauss
The Truth About College: 50 Lessons for Parents Before They Start Writing Checks by Will Keim
When Your Kid Goes to College: A Parents Survival Guide by Carol Barkin
When Kids Go to College: A Parents Guide to Changing Relationships by Barbara Newman and Philip Newman
Parent to Parent Advice
Listed below are "words of wisdom" recently provided by parents of UW students:
Encourage your student to get involved and take advantage of affordable access to many opportunities.
Keep in touch, whether through phone conversations, e-mail, or texting.
Remember not to criticize when you don't approve of some of the things your student might be trying—there are important lessons in these experiences.
Don't get upset when you student changes majors; this could happen more than once.
Emphasize that while UW offers tremendous opportunities, students must take the initiative to pursue these opportunities.
Encourage the use of all resources available to ensure success. Students shouldn't be afraid to ask for help when they need it. Remind them to be persistent and to not give up.
Be mindful not to let your own likes or dislikes influence your student's career choices. If you would like to offer advice or provide us with a story that we can share with other parents, please send it to parent@uwmad.wisc.edu.